STEP-BY-STEP LOWER UNIT OIL CHANGE
Welcome to the step-by-step guide to changing your outboard's lower unit oil. This 8-step process is all it takes to ensure the oil in your lower unit is properly maintained.
The chart at the end of this guide lists the approximate amount of oil needed to fill the lower unit of each model currently offered by Tohatsu.
STEP
First, be sure your outboard is in a vertical and upright position.
Locate and identify the upper and lower Fill & Drain Plugs.
Place an oil drain pan beneath the outboard.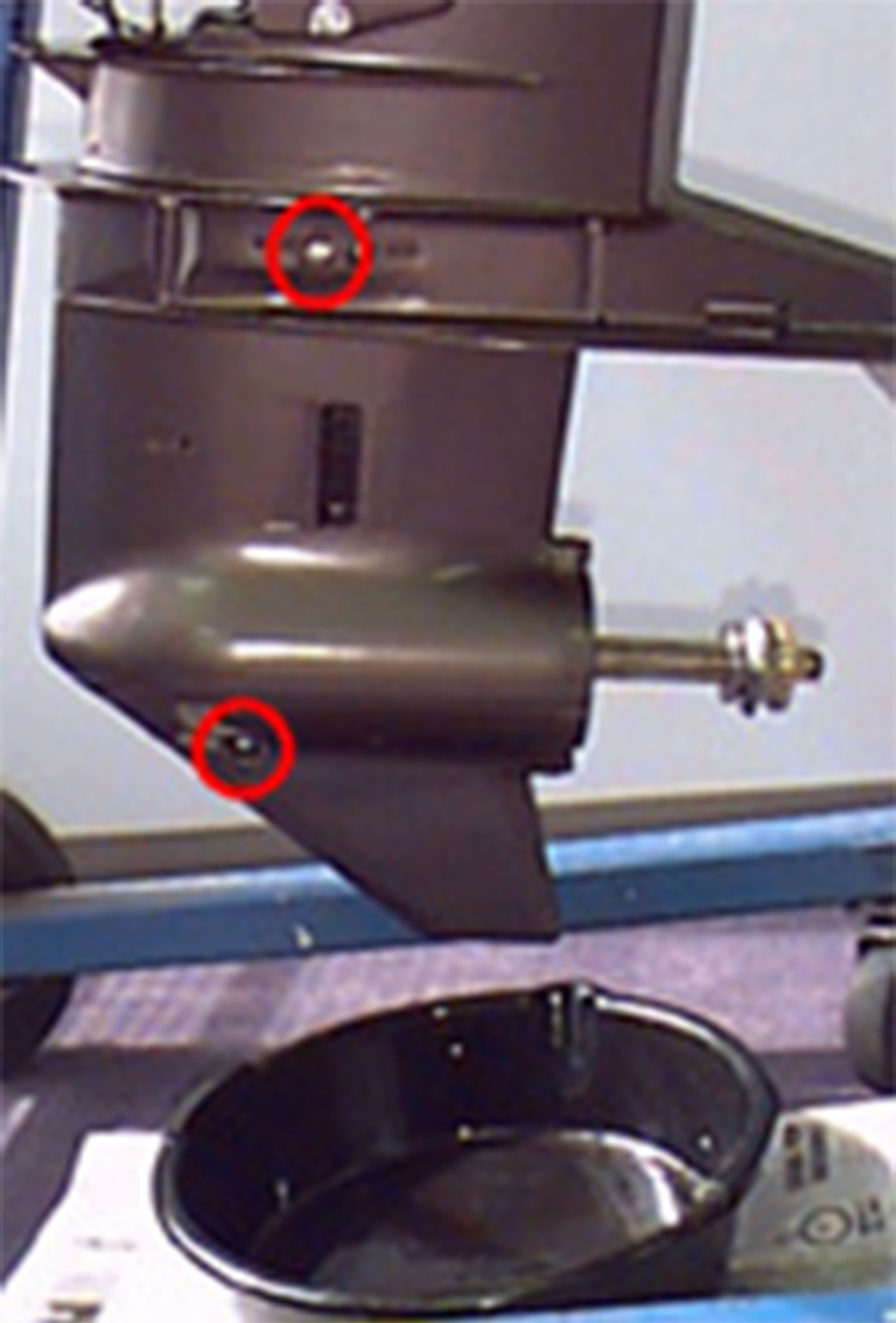 STEP
Remove the BOTTOM drain plug first (not the top).
Some oil will begin to trickle out so be sure your oil drain pan is positioned correctly to catch the draining oil.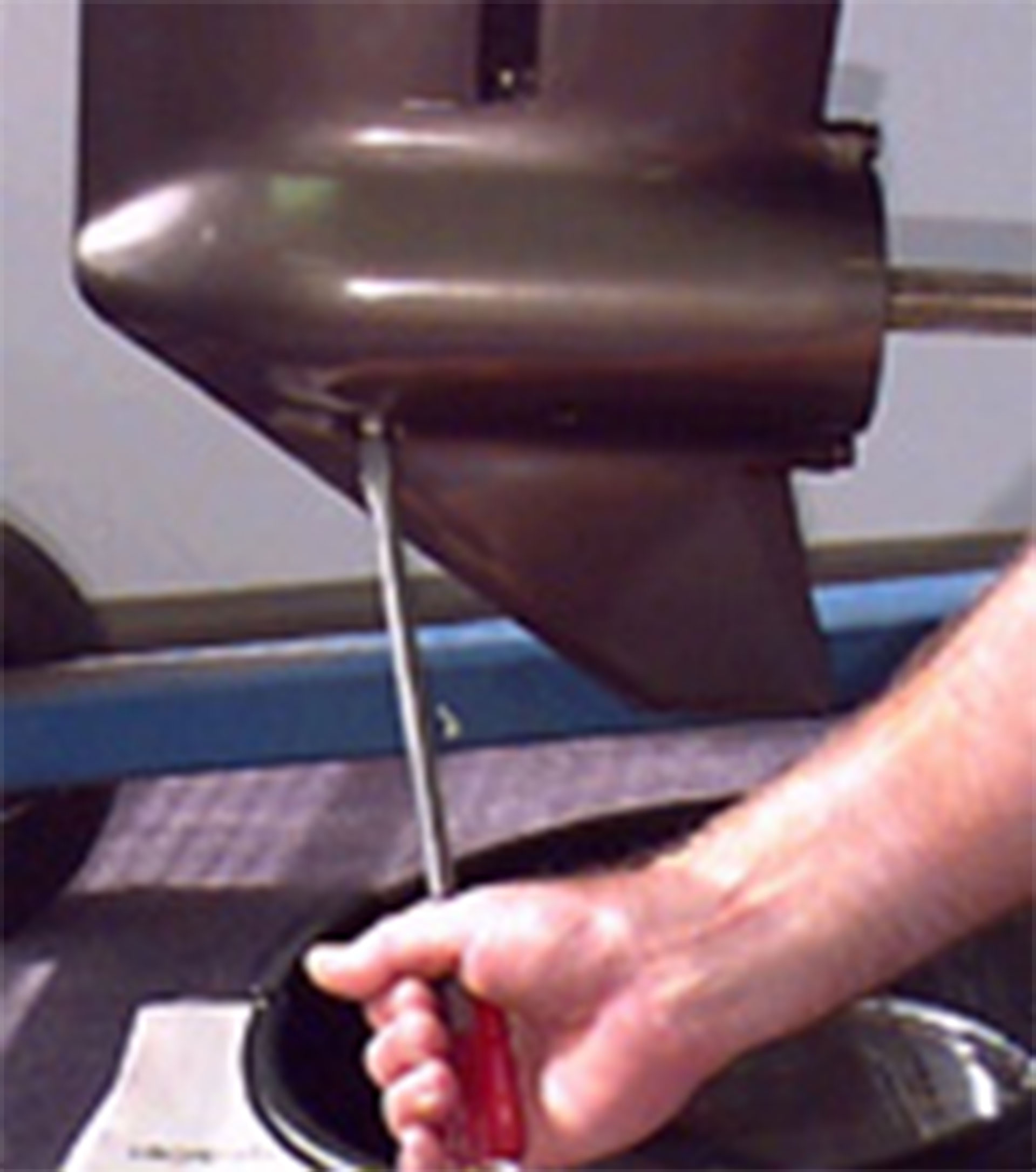 STEP
Next, remove the TOP drain plug.
This will release the vacuum that exists and allow the oil to drain freely from the lower unit.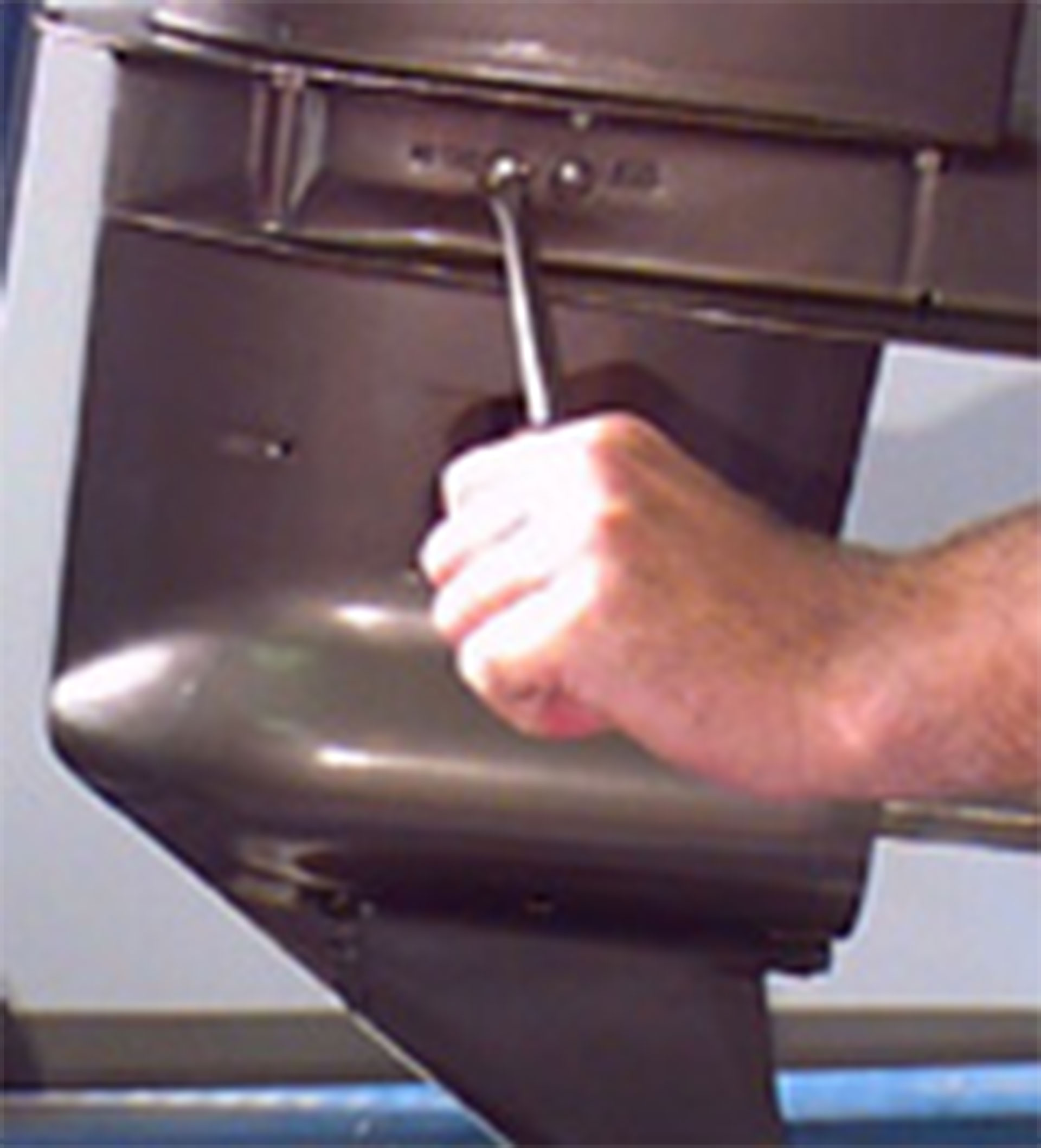 STEP
Let all of the oil drain completely from the lower unit.
This will take about 5-10 minutes.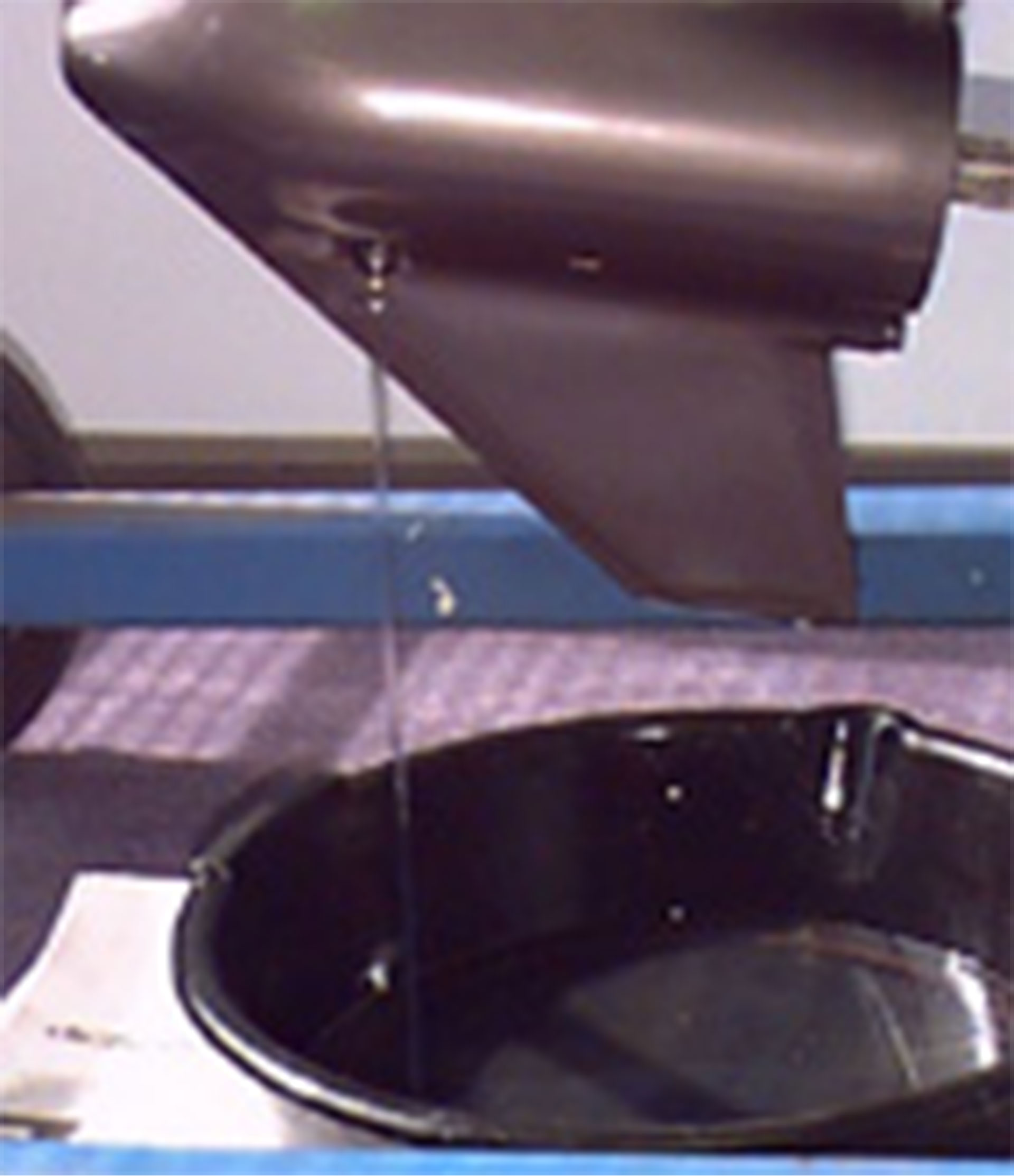 STEP
Once all the oil has completely drained out it is time to refill the lower unit. There are several types of apparatuses available ranging from squeeze bottles to tubes. One of the more popular "do-it-yourself" methods is to use a squeeze bottle.
You can use any brand of lubricant that has a grade designation of API GL5 SAE 80 or 90 weight. Make sure you do not mix different oil brands or weights.
To refill the lower unit, insert the bottle/tube
into the BOTTOM drain hole. Then slowly squeeze the bottle to force the oil into the lower unit.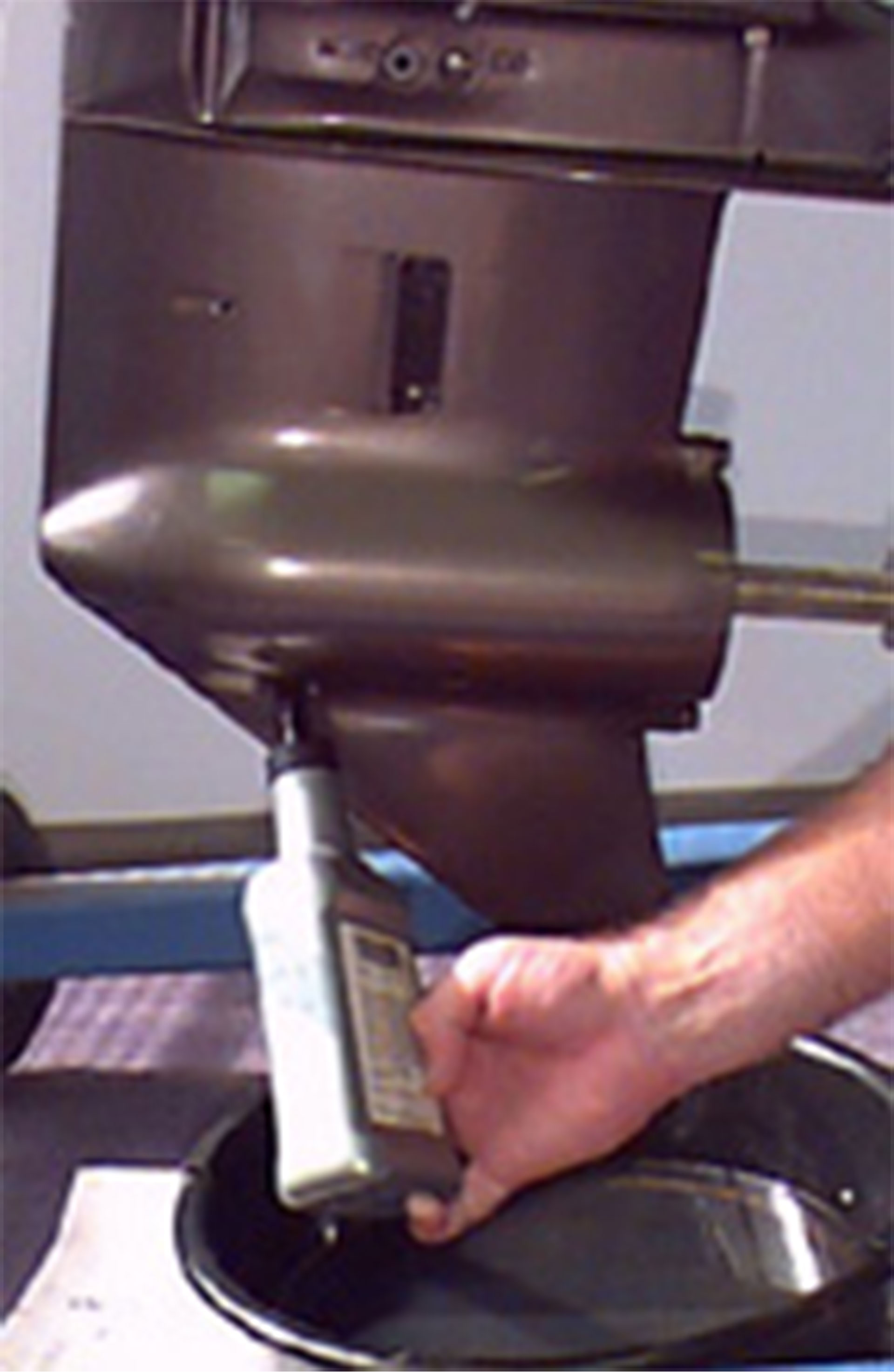 STEP
Continue adding oil until the lubricant is flowing freely from the top hole and is free from air bubbles.
STEP
Keep the bottle/tube in the bottom plug (or plug the hole with your finger) and re-install the TOP plug.
This will create a slight vacuum that will minimize the oil loss while you reinstall the bottom plug.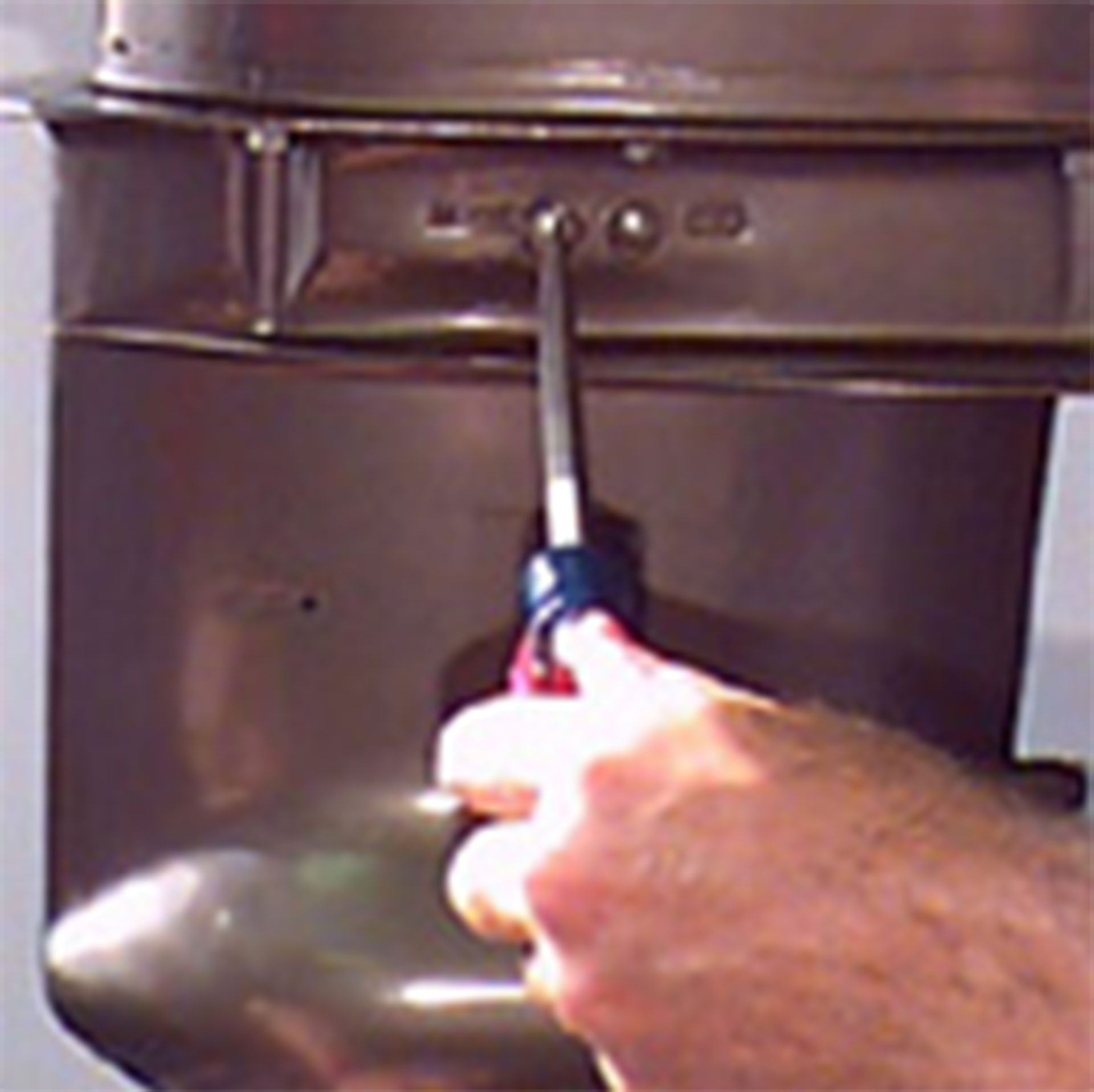 STEP
Now, QUICKLY remove the bottle (or your finger) from the bottom hole and install the drain plug. It is important to do this as quickly as possible to minimize the amount of oil loss. Even though there is a slight vacuum, there will still be some loss of oil. Do not be concerned about losing some oil, however, if you lose an excessive amount of oil you will need to go back and add additional oil. Hand tighten both the lower and upper drain plugs and wipe off any oil on your lower unit.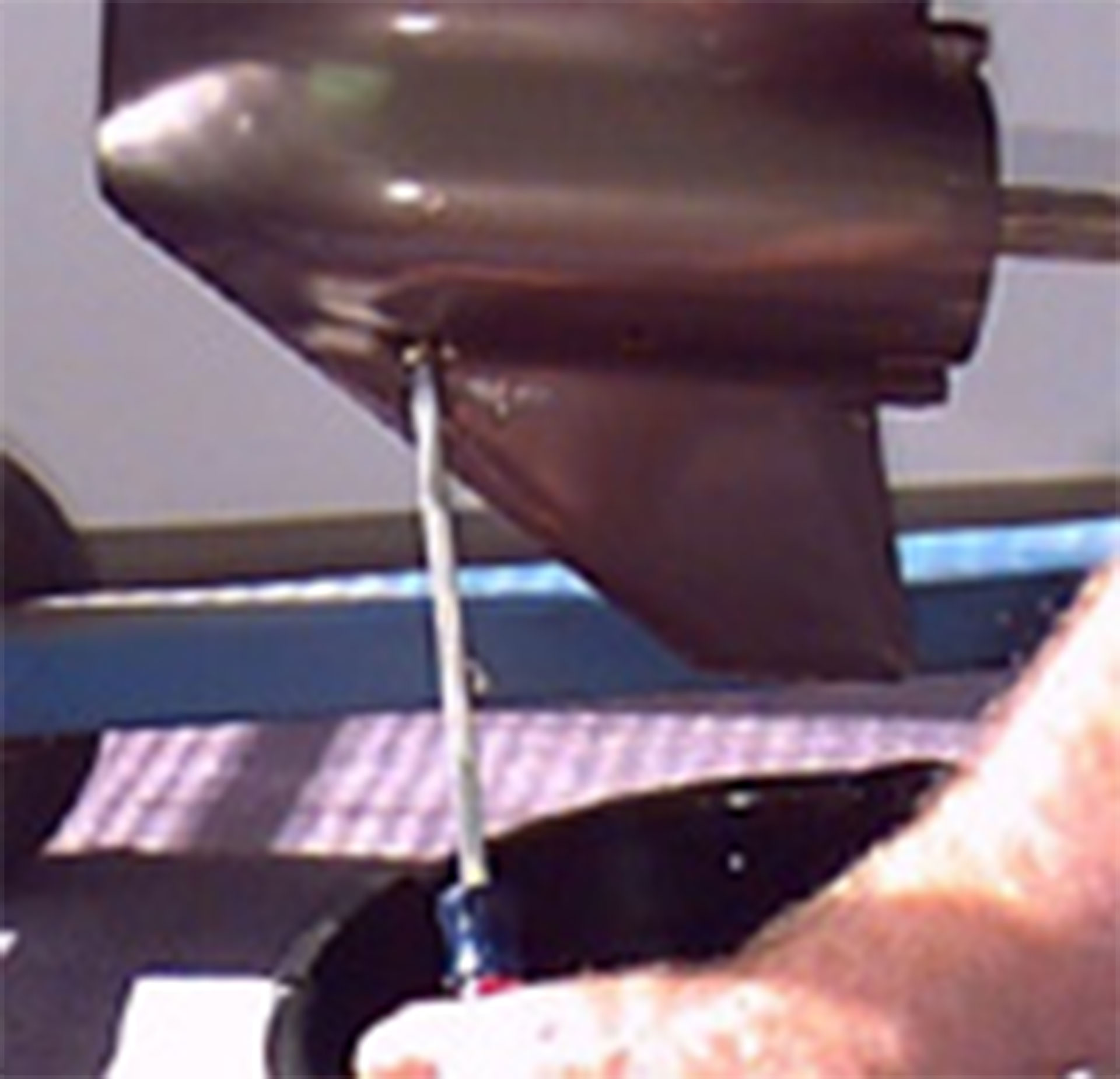 WARNING: Running your outboard without completely filling the lower unit with oil to the proper level will cause severe damage to your outboard. See the comments at the end of this guide on how to check for the proper oil level in your lower unit.
Be sure and properly dispose of your old oil by taking it to an oil recycling center. Most "quick lube" oil change centers or auto service stations will accept your used oil for a nominal fee.
Comments: To check your oil level, remove the top oil plug, insert a small piece of wire straight into the top hole approximately 1 inch and withdraw the wire. If oil is on the wire the oil level is correct, if not the unit must be refilled to the correct level.
To add ("top-off") oil install the top plug again, remove the bottom plug and put your oil bottle into the hole. Remove the top plug to release the vacuum and add the necessary amount of oil. Reinstall the top plug, then quickly reinstall the bottom plug. Check the oil level once again as described above.
Lower Unit Oil Needed by Model
Model
Approximate Fluid Ounces Required
M2.5/3.5A2 (2-Stroke)
90 mL (3.0 fl oz)
M3.5B2 (2-Stroke) & MFS2.5/3.5B (4-Stroke)
180 mL (6.1 fl oz)
M4C/5B (2-Stroke) & MFS4/5/6C/5C LPG (4-Stroke)
195 mL (6.6 fl oz)
M6/8/9.8B (2-Stroke) & MFS6BZ/8/9.8B (4-Stroke)
320 mL (10.8 fl oz)
M9.9/15D2/18E2/MX15/18E2 (2-Stroke) & MFS15/20E (4-Stroke)
370 mL (12.5 fl oz)
M25/30H/MX25/30H (2-Stroke) & MFS25/30C (4-Stroke)
360 mL (12.2 fl oz)
M40/50D2/MX40/50D3 (2-Stroke) & MFS40/50A (4-Stroke) & MD40/50B2 (TLDI)
500 mL (16.9 fl oz)
BFT60 (4-Stroke)
430 mL (14.5 fl oz)
M60C through 140A2 (2-Stroke) & MD75C2 through 115A2 (TLDI)
900 mL (30.4 fl oz)
BFTW60/75/90 (4-Stroke)
950 mL (32.1 fl oz)
BFT115/150 (4-Stroke)
980 mL (33.1 fl oz)
BFT200/225 (4-Stroke)
1,170 mL (39.5 fl oz)
BFT250 (4-Stroke)
1,470 mL (49.7 fl oz)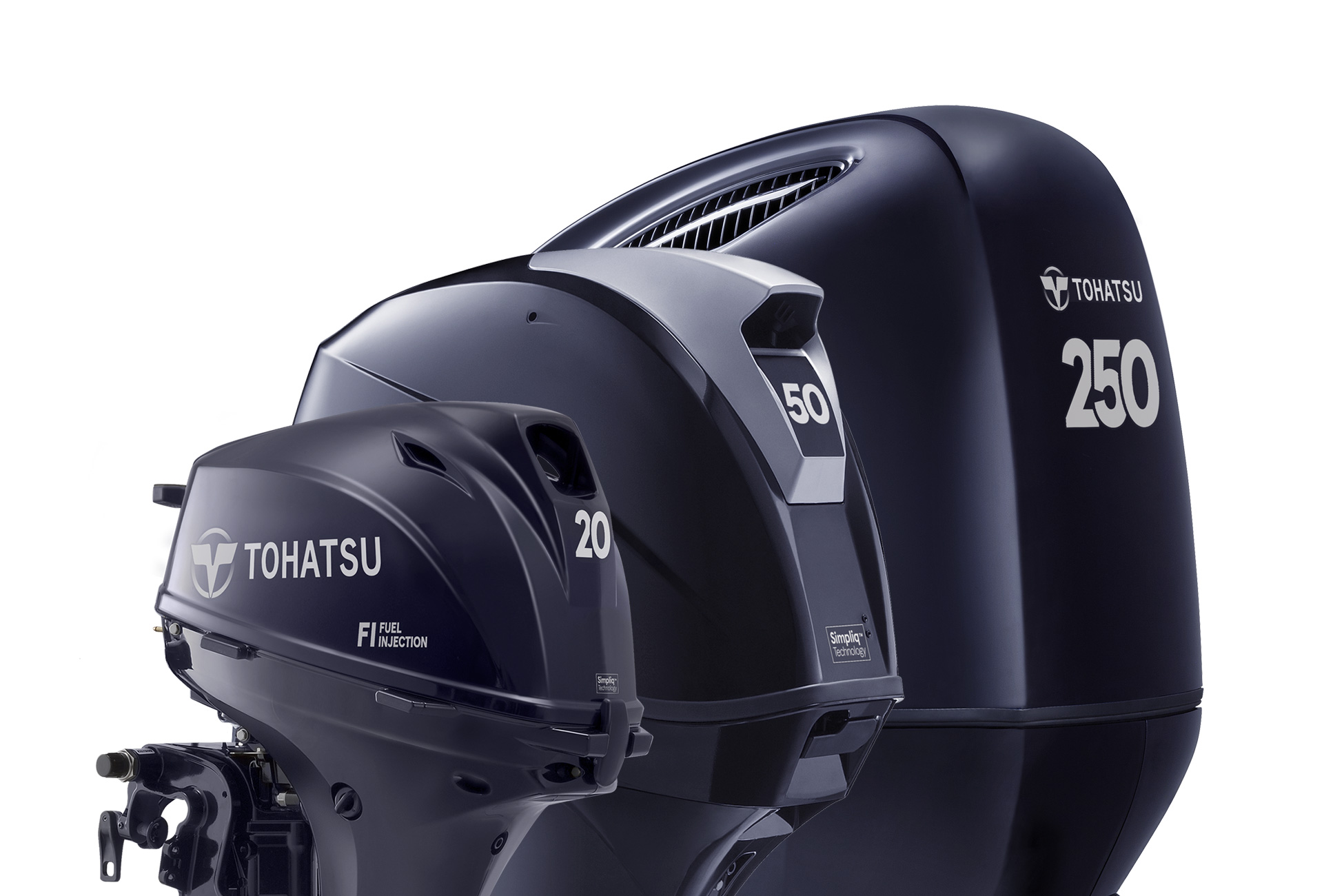 We are uncompromising in our pursuit of outboard motors that are both durable and as light as possible. We pursue the ultimate in quality to deliver an inspirational engine experience.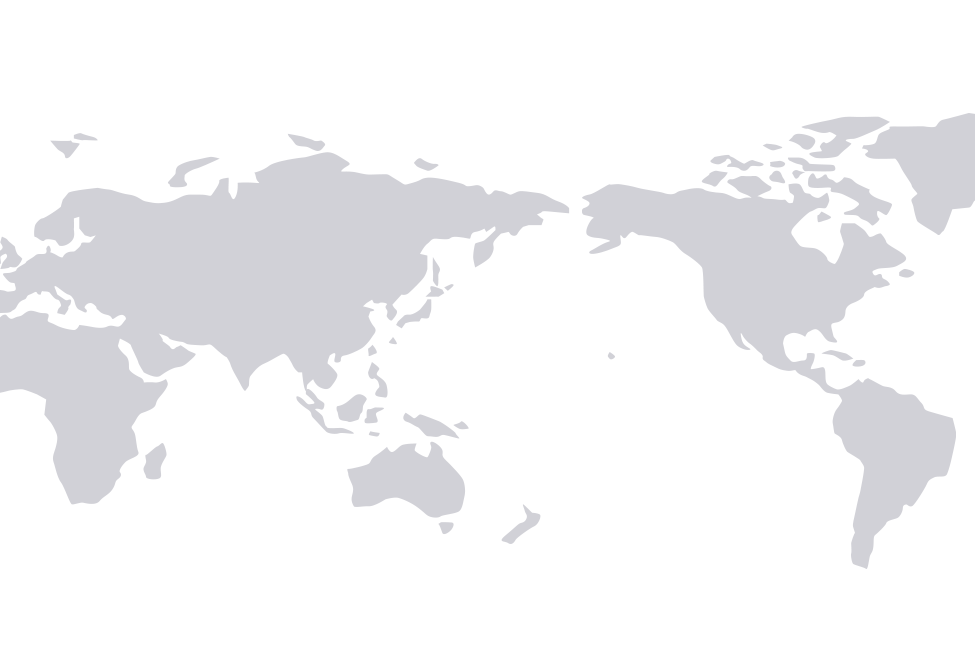 Use our handy database and find a distributor of your area/country.